Madsan Uk is the best electrical provider to hire if your home is in Greater London and you need a domestic or commercial electrician Wembley. Our company offers Certified Electrical Service in Wembley and the nearby places.Since we started our business in 2017, we've become known as one of the most trusted electrical workers in London. Also, we are one of the best electricians in Wembley, London, who can do professional electrical work. Hundreds of private homes, local governments, property investors, building and repair companies, real estate managers, and a lot more are among our clients.
As an local electrical company that is separately recognised, we follow all wiring rules, filing forms, and proof of Part P Compliance. We test and check your Wembley home according to the rules of:
Certificate of Electrical Safety for RentersReport on the visual condition of an electrical installation.
Electrical Installation Condition Report (EICR).
Testing of portable appliances (PAT)
PIR stands for Periodic Inspection Report.
Every client gets a personal touch.
At Madsan UK, our experienced electricians handle every electrical job in Wembley on an individual basis, because each of our clients is different. We take a special method with each client so that we can make sure they are happy and our service is good. Our local team of domestic and commercial electricians Wembley, installs, tests, and inspects electrical systems to high standards and in accordance with the latest laws in the industry.
Our electricians for homes and businesses in Wembley, would do the following:
Home and Business Electrical Wiring.
Full or Partial House Rewire Fault Finding and Electrical Repairs.
Wiring for the bathroom.
TV installation and mounting on the wall.
Wiring for the kitchen.
Earthing and replacing the fuse board.
Lights for security and gardens
CCTV Installation & Maintenance
Electrical Maintenance: Reactive and Planned
Outdoor Socket Installation
Outside lights and fuse boxes
Power for ventilation and electric warmth
Putting in a fire alarm
Lighting and power Plan installations for data cabling
Electrical Consultancy
EV Installation of a Charging Point for Electric Vehicles
Electrical Emergency Home automation installation should be called in.
More about the home electrical service we offer
Our company stands out because we treat each customer as a person. We try to offer electricity services and solutions that are both reasonable and good value for money. The good reviews we've gotten from customers over the years have helped us become one of the most trusted electricians Finchley. You can look at our Testimonials page to see what our customers have said about us.
Do not hesitate to call us if you need a good electrician Finchley, Greater London. You can get a free price from us by calling 02045484514. You can also go to our website's "Contact us" page and use the online form there to send us a message. We'll be happy to help you out. If you need an electrician in Wembley, right away, please call us at 07484186342.
Local Electrician Wembley
Our Services:
Home Electricians,
Commercial Electricians ,
Industrial Electricians,
Electrical Testing and Inspection,
Electrical Safety Certificate,
Fire Alarms, CCTV Installation for the Whole or Part of the House Setting up and taking care of.
We install TVs and mount them on walls. We also do data cabling installations.
EV Installation of Charging Points for Electric Vehicles Home Automation Installation Installation of Security and Garden Lighting
Earthing and replacing the fuse board
Electrical Emergency Call Out Outdoor Plug Installation Fault Finding and Electrical Repairs Areas We Cover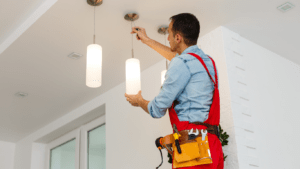 Electrician Wembley
Even though there might be a lot of professional electricians in Wembley area, one company stands out. Most people in London choose Madsan Electrical Ltd, an electrical company that has emergency electrician. Our team of professionals is proud to be among the best and most trusted electricians in Wembley. Also, if you need an electrician near you, Madsan Electrical is your first and best choice. Also, all of our electrical engineers have been trained, have years of experience, and are fully qualified to do any kind of electrical work in your area. We also offer a number of other professional electrician services. Our base charge for a visit to a home for up to an hour is only £90.
There are a lot of good reasons to choose a trusted Wembley electrician. Madsan Electrical really does give the best professional electrical services, such as:
Domestic Electriciann
 Commercial Electricians
 Industrial Electricians
 Checking and Testing Electricity
 A full or partial electrical safety certificate Rewiring the house, installing EV charging points, and installing home automation
 Earthing, Fuse Board Replacement, and Much More