Introduction
Electrical work is a critical aspect of any building project, whether it is residential or commercial. The quality of the electrical work done can determine the safety and reliability of the entire installation.
Therefore, it is essential to choose the right electrical company to ensure that your project runs smoothly and safely. In this article, we will discuss why choosing the right electrical company is crucial and what to look for when selecting one.
The Importance of Choosing the Right Electrical Company
Choosing an electrical company that has a good reputation and experience in handling different types of projects can make all the difference in ensuring a safe and efficient installation. Electrical installations are not simple tasks, and they require expertise in planning, designing, installing, testing, and maintaining electrical systems.
An inexperienced or poorly qualified electrician can cause significant damage to your property or even put you at risk of electrocution. Moreover, a poorly installed electrical system can result in recurring problems such as flickering lights, tripping breakers or even power outages.
These problems can be frustrating to deal with and might require expensive repairs down the line. Therefore, it is essential to choose an electrical company that has extensive experience in handling such issues to avoid such inconveniences.
When choosing an electrical company for your project, there are several factors you should consider. One important factor is their reputation within your local area. You want an electrician who has built up a positive reputation over time through quality workmanship and excellent customer service.
Additionally, you need an experienced team that specializes in handling different types of projects such as residential or commercial installations effectively. They should also have certifications from relevant industry bodies showing their expertise.
Another important factor is their pricing, which should be balanced against quality. To provide superior service, great electrical companies should stay abreast of industry advancements.
Choosing the right electrical company is crucial to ensuring that your project runs smoothly and safely. In the following sections, we will discuss each of these factors in detail to help you make an informed decision.
Reputation
When it comes to choosing the best electrical company, reputation is everything. A reputable company is one that has a proven track record of providing quality services and customer satisfaction.
Before settling on a particular electrical company, it's important to research their reputation in the industry. Here are some ways to do so:
Researching the Company's Reputation
One of the best ways to research an electrical company's reputation is by checking their online presence. Look for independent reviews on sites such as Yelp, Google Reviews, and Angie's List.
These websites allow customers to leave feedback about their experience with a particular company. While not all reviews may be completely accurate or trustworthy, you can get a good idea of the overall impression that people have of the company.
Another way to research reputation is by contacting local business associations or consumer groups in your area. These organizations often have lists of recommended contractors and can provide information about any complaints or issues that have been made against a particular electrical company.
Checking Online Reviews and Ratings
A quick search online will show you many reviews and ratings for different electrical companies in your area. It's important to read through these reviews carefully before making any decisions.
If multiple customers complain about an electrician, it may indicate workmanship or customer service issues.
Asking for Referrals from Friends and Family
Word of mouth can be a powerful tool when it comes to finding reliable service providers. Ask friends, family, and colleagues for recommendations on electrical companies they have used in the past.
A personal recommendation from someone you trust can give you peace of mind that the company is reputable and trustworthy. When asking for referrals make sure to ask specific questions about their experience with the company – What work did they do?
Was the electrician professional, punctual and courteous? Did they complete the job within budget and on time?
Any problems or concerns that you should know about? Researching an electrical company's reputation is critical before hiring them to perform any work in your home or business.
Check online reviews and ratings, ask around for recommendations from friends and family members, or contact local business associations to learn more about their reputation. Remember that choosing a reputable electrician will ensure quality workmanship which will ultimately save you time, money and headaches over the long run.
Experience and Expertise
When looking for an electrical company to contract, it is important to consider the experience and expertise of the company. A company with many years of experience in the industry has likely dealt with a variety of electrical issues and has developed a wealth of knowledge on how to solve problems efficiently. With that, you can trust that they have gained the necessary experience and skills to handle any electrical work.
Although it's worth noting that some newer companies may also have highly experienced technicians. You should also consider whether the company specializes in residential or commercial electrical work depending on your needs.
For instance, if you need an electrician for your residential property, then look for an electrical company specializing in residential work as they are more likely to understand your unique needs compared to a company specializing in commercial work. Specialty companies will often have a better understanding of specific codes and requirements related to their area of specialty.
Certifications and Licenses
It's always essential to ensure that the electrical company you choose is licensed by regulatory bodies within its jurisdiction; this is often proof that they meet specific standards required by law. A licensed electrician has completed a certain level of training and education and has passed rigorous exams, ensuring they have adequate knowledge about different aspects of electricity, safety procedures, among other things.
You must also check whether any certifications or memberships held by the company reflect current standards within their field. Some examples include National Electrical Contractors Association (NECA) membership or certification from Building Industry Consulting Service International (BICSI).
These organizations offer specialized training for electricians who want additional certification beyond what is required by law. Choosing an experienced electrical contractor with proper licensing and certifications can give you peace of mind knowing that your project will be handled professionally while adhering to strict safety guidelines.
Customer Service
When it comes to choosing the best electrical company in your local area, customer service should be one of the top factors to consider. A professional electrical company should prioritize customer satisfaction and have a reputation for delivering high-quality services. Additionally, they should be able to handle all types of electrical issues with promptness, efficiency, and professionalism.
Responsiveness to Inquiries and Concerns
A good electrical company should always be available to answer questions and address any concerns you may have about their services. The ability to respond promptly is an important factor that demonstrates commitment towards providing satisfactory customer service.
They should have a team that is well-trained in responding quickly and providing correct information on technical issues related to electrical installations, repairs or maintenance. A professional electrician will always take the time needed to explain what needs fixing, how they will go about it, how long it will take and what it will cost.
An electric emergency like an electrical fire or power outage can happen at any given time; therefore, you need an electrical company that offers 24-hour emergency services. The best companies provide reliable services in times of crisis. A good way to determine their reliability is by checking if they have a website with reviews from previous clients who received same-day emergency assistance or know someone who had such work done by the same company.
Professionalism in Communication with Clients
A professional electrical company should maintain open communication channels between its staff and clients. Clear communication ensures that all parties are on the same page regarding scope of work expected timelines for completion as well as pricing terms among others things. The use of technology such as email or text messaging services can also help improve communication between clients and electricians during different stages of a project.
Pricing
When it comes to choosing an electrical company, pricing is a crucial factor that can influence your decision-making process. However, it is essential to avoid making the mistake of choosing a company solely based on price.
This mistake can lead to poor workmanship, substandard materials used or even safety hazards in your home or business. The first step in analyzing pricing is comparison shopping.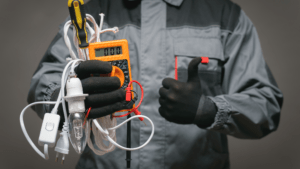 Comparing prices among different companies
To ensure you're getting the best deal out there, you should take time to compare prices from different electrical companies within your local area. You can do this by requesting quotes from several companies and comparing their prices side by side. Keep in mind that the lowest price doesn't necessarily mean it's the best option for you; sometimes low-cost services come with hidden charges or inferior quality services.
Consider reviewing the price quotes and conducting research on each of the companies before making a decision. If possible, visit each company's website and review their services' details and pricing structure.
Understanding what is included in a price quote
It's important to understand precisely what is included in any given price quote provided by an electrical company before accepting any offer. Ensure that all related costs are included, such as labor costs, parts required for any repairs or installations and other miscellaneous expenses like permit fees. Make sure that all estimates are clear and concise before going ahead with any work; ask questions about anything you're unsure about until you have a clear understanding of everything involved.
Avoiding companies with unusually low prices
While everyone wants value when picking an electrical contractor, choosing one with unreasonably cheap costs may indicate substandard craftsmanship or even under-qualified employees working on your home. An exceptionally cheap price may suggest that substandard materials or an untrained and uninsured contractor were used during installation or repair.
It's important to keep in mind that electrical work carries significant risks and an inferior job can put your property, you, and your family at risk. Take your time and choose a company that provides value for money.
Don't compromise on the quality of workmanship or materials used to save a few dollars upfront. It's essential to select a reputable company with qualified personnel that uses high-quality equipment to ensure safety, reliability, and longevity of work performed on your property.
Technology and Innovation
The Importance of Staying Up to Date with Technology and Innovation
When selecting an electrical company, it's essential to consider whether the company is up-to-date with the latest technology and innovations. Companies that stay current on new developments in their industry are better equipped to provide their clients with top-quality services. Additionally, companies that are knowledgeable about new energy-efficient technologies can help you save on your energy bills.
Automation systems, smart home technologies, energy-efficient lighting, and renewable energy sources are some of the biggest electrical sector advances. To help you decide how these technologies can benefit your house or business, a good electrical firm should describe them in simple terms.
Evaluation of Equipment Used by Electrical Companies
Another critical factor to consider when selecting an electrical company is the equipment used by the electricians. Well-established firms will invest in modern equipment as it reduces safety risks and enhances efficiency.
For instance, cable fault locators prevent cable damage when faults occur while isolating power supply cables for repair or maintenance. The quality of tools used has an impact on project delivery time as well as service fees charged by the electrician.
Professional grade tools are usually more durable than low-grade tools thus reducing downtime caused by malfunctioning equipment. Before picking an electrical firm, ask about their technological competence and whether they use new equipment that improves job productivity and reduces dangers.

Warranty/Insurance
It is essential to consider the warranty on products and services provided by the electrical company. A warranty provides assurance that the company stands behind its work and is willing to correct any issues that may arise after installation or repair. Look for companies that offer a comprehensive warranty policy with clear terms and conditions.
A good warranty should cover workmanship, materials, and parts used in the project. Additionally, insurance coverage provided by the company is another important factor to consider when choosing an electrical company.
Accidents do happen, no matter how careful a technician may be. A reputable electrical company should have at least two types of insurance – general liability insurance and worker's compensation insurance.
General liability insurance protects you from any damage caused to your property during the project, while worker's compensation insurance covers injuries sustained by employees on your property during the project. Ensure that you confirm these details before hiring an electrician for your job.
The Importance of Warranty
The warranty offered by an electrical contractor serves as proof of their confidence in their work quality and reliability; it offers an additional layer of protection for clients against potential future issues with their systems. Ensure that you thoroughly examine warranties provided by different contractors before making a final decision.
A good warranty should cover both labor and parts used for up to one year or more depending on industry standards. Ask about what will happen if something goes wrong after installation, whether they'll come back out to fix it or provide replacement components free of charge.
Why Insurance Matters
Electrical jobs often come with many risks; therefore, it's crucial to hire contractors who have adequate insurance coverage in case anything goes wrong during installation or repairs. With liability coverage, you can rest assured knowing that any damages caused during installation will be covered by the insurer.
Both parties in electrical projects need worker's compensation since accidents might happen suddenly and inflict serious financial and personal damage. To safeguard yourself and the electrical company's workers, check their worker's compensation insurance.
Conclusion
Don't Rush Your Decision
Choosing the right electrical company is important for the safety of you and your family, as well as the quality of work done in your home or business. It's imperative to take the time to research and compare companies before making a decision. Rushing can lead to poor quality work, safety risks, and even higher costs in the long run.
Key Points to Consider
When choosing an electrical company, it's crucial to consider their reputation, experience and expertise, customer service, pricing, technology and innovation, warranty/insurance coverage. You want a company that is reliable, knowledgeable, responsive and professional with fair pricing. It's also essential to ask for referrals from friends and family who have used an electrical company you're considering.
Check online reviews on social media platforms such as Yelp or Facebook page of the company. This will give you insight into their quality of workmanship through other customers' experiences.
Taking your time in selecting a reputable electrical company that meets your needs is worth the effort. Remember all these key points when choosing an electrical company in your local area that best suits you is essential for peace of mind knowing that any work performed by them are done in compliance with established guidelines so that you can rest easy knowing your household or commercial property is safe and well-maintained.