When it comes to electrical faults, it's always best to trust the experts. Madsan UK is a trusted provider of electrical fault finding services for both homes and businesses. Our experienced technicians can quickly identify and fix any electrical issues, ensuring safety and efficiency for your property.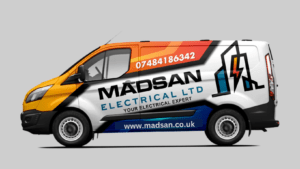 Whether you are experiencing flickering lights, tripping circuits or power surges, our team can diagnose and resolve these issues for you. We are committed to providing a high level of service, using advanced technology and equipment to ensure accurate and efficient fault finding.
Signs of Electrical Faults in Your Home or Business
Electrical faults are common occurrences in homes and businesses, and they can cause serious safety hazards if left unchecked. Recognizing the signs of electrical faults early on can prevent further damage and ensure the safety of the property and its occupants.
Short circuit troubleshooting: If your circuit breaker keeps tripping or your fuses keep blowing, it may be due to a short circuit. This occurs when a live wire comes into contact with a neutral wire, causing an overload.
Overload issues: Overloading occurs when too many appliances are plugged into a single outlet or circuit, causing the circuit to trip or the fuse to blow. This can be a fire hazard if not addressed.
Fuse failure: If your fuses are frequently blowing, it may be due to an old and outdated electrical system. This can cause safety hazards and may require an upgrade to the system.
Insulation problems: Poor insulation can cause electrical wiring to become exposed and pose a fire hazard. Signs of insulation issues include discolored or frayed wires.
Faulty switches: If your light switches are not working properly or if they are making strange noises, there may be an underlying electrical issue that needs to be addressed.
Dimming lights: If your lights dim or flicker when you turn on an appliance, it may be due to a voltage fluctuation. This can be a sign of a serious electrical issue and should be addressed immediately.
Recognizing these signs early on can help prevent further damage and ensure the safety of your home or business. If you notice any of these signs, it's essential to seek professional electrical fault finding services.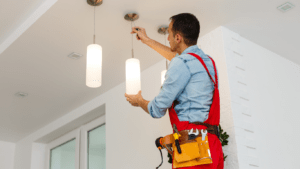 Tripping Circuits, Power Surges, and Circuit Overheating
Tripping circuits, power surges, and circuit overheating are more serious electrical issues that require immediate attention. These issues can cause damage to your appliances and pose a serious fire hazard if left unresolved. Madsan UK's electrical fault finding services can help identify and fix these issues, ensuring the smooth operation of your electrical system.
The Importance of Professional Electrical Fault Finding Services
Electrical faults can cause inconvenience, damage to property, and even pose a significant safety hazard. It's essential to address any issues promptly and seek the help of a professional electrical fault finding service.
At Madsan UK, we understand the seriousness of electrical faults and are dedicated to providing expert solutions to our customers.
Ignoring issues such as tripping circuits, power surges, circuit overheating, and open circuits can lead to more significant problems in the future. These issues can also significantly impact the safety of your property and its occupants. It's, therefore, crucial to seek the help of qualified professionals to diagnose and fix any electrical faults.
Our team of experienced technicians at Madsan UK can diagnose and repair a wide range of electrical faults safely and efficiently. With the use of advanced technology and equipment, we can identify issues that are not always visible to the naked eye and provide customized solutions that meet your specific needs.
Don't compromise your safety or that of your property – contact Madsan UK for expert electrical fault finding services today.
Our Electrical Fault Finding Process
At Madsan, we follow a rigorous fault finding process to ensure that we can provide the best possible service to our clients.
Our team of experienced technicians use advanced technology to accurately identify and fix any electrical issues, ensuring safety and efficiency. Our process involves the following steps:
| Step | Details |
| --- | --- |
| Inspection | Our technicians will inspect the entire property, including the electrical system, outlets, and appliances to identify any potential faults and hazards. |
| Testing | We use state-of-the-art equipment to test the electrical system, including circuit breakers, fuses, and switches, to detect any abnormalities and diagnose the issue accurately. |
| Customized Solutions | Based on our findings, we provide customized solutions to fix any identified issues. Our technicians will discuss the options with the client and provide recommendations for the most effective and cost-efficient solutions. |
| Repair | Our team will repair any faulty components, such as wiring, switches, or circuit breakers. We ensure that all repairs are carried out safely and efficiently to minimize disruption to our clients. |
| Follow-up | After completing the repairs, our technicians will test the entire electrical system to ensure that it is functioning correctly. We also provide follow-up maintenance services to ensure that the electrical system remains in good condition. |
We understand that electrical faults can be dangerous and disruptive, which is why we prioritize safety and efficiency throughout our process. Our team is committed to providing the highest quality service and ensuring customer satisfaction. Contact us today to learn more about our electrical fault finding services.
The Importance of Professional Electrical Fault Finding Services
As a property owner, it's important to recognize the potential dangers of electrical faults and the importance of seeking professional help in resolving them. Here are some common FAQs:
What Causes Electrical Faults?
Electrical faults can be caused by a variety of factors, including improper installation, wear and tear, and environmental factors such as moisture or pests. It's important to have regular electrical inspections to identify potential issues early on.
How Long Does It Take to Fix Electrical Faults?
The time it takes to fix an electrical fault depends on the complexity of the issue and the extent of the damage. Our expert technicians at Madsan UK will provide a customized solution and timeline based on the specific situation.
How Much Does Electrical Fault Finding Cost?
The cost of electrical fault finding can vary depending on the severity of the issue and the required repairs. However, at Madsan UK, we are committed to transparency and will provide a detailed quote upfront.
Don't wait until it's too late – seek professional fault finding services to ensure the safety and efficiency of your property. Contact Madsan UK today!